---
The Electric Car: Mobility in Upheaval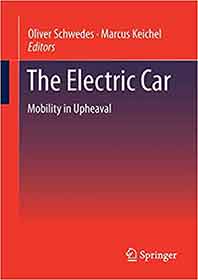 Text from the publisher:

Oliver Schwedes and Marcus Keichel. Springer 2020. 160 p.
The volume is dedicated to the electric car. It examines the extent to which the electric car can contribute to sustainable transport development as part of a new mobility culture. The technical, cultural, political, social and aesthetic dimensions are considered. It will be shown how the general social framework has to change in order to make the electric car a success.
This book is a translation of the original German edition "Das Elektroauto" by "Marcus Keichel", published by Springer Fachmedien Wiesbaden in 2013. The translation was done with the help of artificial intelligence (machine translation by the service DeepL.com). A subsequent human revision was done primarily in terms of content, so that the book will read stylistically different from a conventional translation. Springer Nature works continuously to further the development of tools for the production of books and on the related technologies to support the authors.
electric car, sustainability