---
Assembling Moral Mobilities: Cycling, Cities, and the Common Good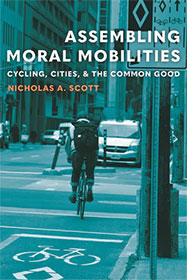 Text from the publisher:

Nocholas A. Scott. University of Nebraska Press 2020. 288 p.
In the years since the new mobilities paradigm burst onto the social scientific scene, scholars from various disciplines have analyzed the social, cultural, and political underpinnings of transport, contesting its long-dominant understandings as defined by engineering and economics. Still, the vast majority of mobility studies, and even key works that mention the "good life" and its dependence on the car, fail to consider mobilities in connection with moral theories of the common good.
In Assembling Moral Mobilities Nicholas A. Scott presents novel ways of understanding how cycling and driving animate urban space, place, and society and investigates how cycling can learn from the ways in which driving has become invested with moral value. By jointly analyzing how driving and cycling reassembled the "good city" between 1901 and 2017, with a focus on various cities in Canada, in Detroit, and in Oulu, Finland, Scott confronts the popular notion that cycling and driving are merely antagonistic systems and challenges social-scientific research that elides morality and the common good. Instead of pitting bikes against cars, Assembling Moral Mobilities looks at five moral values based on canonical political philosophies of the common good, and argues that both cycling and driving figure into larger, more important "moral assemblages of mobility," finally concluding that the deeper meta-lesson that proponents of cycling ought to take from driving is to focus on ecological responsibility, equality, and home at the expense of neoliberal capitalism. Scott offers a fresh perspective of mobilities and the city through a multifaceted investigation of cycling informed by historical lessons of automobility.
bicycle, sustainability, urban travel