---
A U-Turn to the Future: Sustainable Urban Mobility since 1850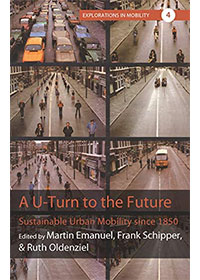 Text from the publisher:

Martin Emanuel, Frank Schipper & Ruth Oldenziel (eds.). Berghahn Books 2020. 350 p.
From local bike-sharing initiatives to overhauls of transport infrastructure, mobility is one of the most important areas in which modern cities are trying to realize a more sustainable future. Yet even as politicians and planners look ahead, there remain critical insights to be gleaned from the history of urban mobility and the unsustainable practices that still impact our everyday lives. United by their pursuit of a "usable past," the studies in this interdisciplinary collection consider the ecological, social, and economic aspects of urban mobility, showing how historical inquiry can make both conceptual and practical contributions to the projects of sustainability and urban renewal.
sustainability