---
Scotland's Railways in the 1980s and 1990s: A Snapshot in Time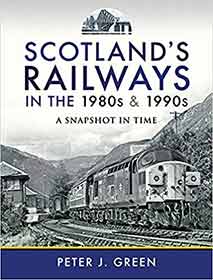 Text from the publisher:

Peter J. Green, Pen & Sword Transport 2020, 200 p.
In the 1980s and early 1990s, Scotland was an excellent destination for the railway enthusiast. The many locomotive hauled trains running through splendid scenery, together with the surviving railway infrastructure and mechanical signalling, provided many fine photographic opportunities. My first railway visit to Scotland was on board The Fair Maid rail tour to Perth, behind Flying Scotsman in 1983\. The following year, I again travelled to Scotland, this time on the F & W Railtours The Skirl O' The Pipes 4, to Kyle of Lochalsh and Mallaig, my first visit to the Scottish Highlands. I had previously been travelling abroad for railways, but impressed by what I saw, I decided that I would quickly return to photograph the Scottish railway scene, before it changed too much. This was the start of a series of visits, each for one or two weeks, between 1984 and June 1991, covering the whole country. This book is a photographic record of the locomotives, trains and infrastructure of the railways of Scotland and the landscapes through which the trains ran, as recorded by my various cameras during the period of my visits.
England, infrastructure