---
The Violence of Empire: The Tragedy of the Congo-Océan Railroad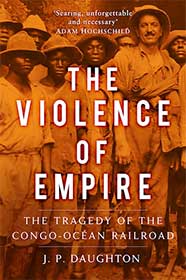 Text from the publisher:

J.P. Daughton, The History Press 2021, 384 p.
The Congo-Océan railroad stretches across the Republic of Congo from Brazzaville to the Atlantic port of Pointe-Noir. It was completed in 1934, when Equatorial Africa was a French colony, and it stands as one of the deadliest construction projects in history. Colonial workers were subjects of an ostensibly democratic nation whose motto read 'Liberty, Equality, Fraternity', but liberal ideals were savaged by a cruelly indifferent administrative state.
African workers were conscripted at gunpoint, separated from their families and subjected to hellish conditions as they hacked their way through dense tropical foliage; excavated by hand thousand of tonnes of earth in order to lay down track; blasted their way through rock to construct tunnels; or risked their lives building bridges over otherwise impassable rivers. In the process, they suffered disease, malnutrition and rampant physical abuse, likely resulting in at least 20,000 deaths.
The Violence of Empire captures in vivid detail the experiences of the men, women and children who toiled on the railroad, and forces a reassessment of the moral relationship between modern industrialised empires and what could be called global humanitarian impulses – the desire to improve the lives of people outside of Europe. Drawing on exhaustive research in French and Congolese archives, a chilling documentary record and eye-opening photographic evidence, J. P. Daughton tells the epic story of the Congo-Océan railroad, and in doing so reveals the human costs and contradictions of modern empire.
DR Congo, infrastructure