---
London Transport: A Hybrid in History, 1905-48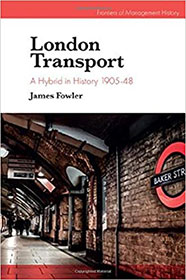 Text from the publisher:

James Fowler. Emerald 2019. 168 p.
The London Passenger Transport Board (LPTB) was a unique hybrid public body accountable only to a small number of stakeholders, yet it delivered substantial improvements in public services and provided good working conditions for its employees at the cost of its investors.

London Transport: A Hybrid in History 1905-48 innovatively combines a revisionist historical narrative with a systematic analysis of quantitative and qualitative research to explore how and why the LPTB achieved rare popularity amongst its customers. Divided into three sections, the book explores the financial operations of the Board, the Board as a system of governance and the leadership and management within the LPTB. Using the extensive Transport for London archives, James Fowler conducts a timely assessment of the public network utility that once made London transport domestically popular and internationally admired.

With debates about British transport policy ongoing, this book is an illuminating read for scholars and students researching within the areas of business management history, transport and public sector governance and administration.
bus, business matters, England, metro