---
Roman Seas: A Maritime Archaeology Of Eastern Mediterranean Economies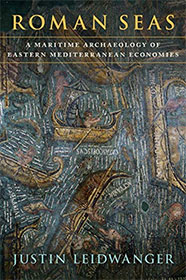 Text from the publisher:

Justin Leidwanger. Oxford University Press 2020. 336 p.
That seafaring was fundamental to Roman prosperity in the eastern Mediterranean is beyond doubt, but a tendency by scholars to focus on the grandest long-distance movements between major cities has obscured the finer and varied contours of maritime interaction. This book offers a nuanced archaeological analysis of maritime economy and connectivity in the Roman east. Drawing together maritime landscape studies and network analysis, Roman Seas takes a bottom-up view of the diverse socioeconomic conditions and seafaring logistics that generated multiple structures and scales of interaction. The material record of shipwrecks and ports along a vital corridor from the southeast Aegean across the northeast Mediterranean provides a case study of regional exchange and communication based on routine sails between simple coastal harbors. Rather than a single well-integrated and persistent Mediterranean network, multiple discrete and evolving regional and interregional systems emerge.
This analysis sheds light on the cadence of economic life along the coast, the development of market institutions, and the regional continuities that underpinned integration-despite imperial fragmentation-between the second century BCE and the seventh century CE. Roman Seas advances a new approach to the synthesis of shipwreck and other maritime archaeological and historical economic data, as well as a path through the stark dichotomies-either big commercial voyages or small-scale cabotage-that inform most paradigms of Roman connectivity and trade. The result is a unique perspective on ancient Mediterranean trade, seafaring, cultural interaction, and coastal life.
economy in society, Mediterranean Sea