---
Human Mobility and Technological Transfer in the Prehistoric Mediterranean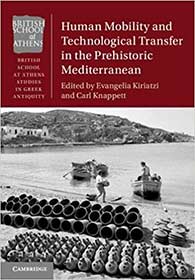 Text from the publisher:

Evangelia Kiriatzi and Carl Knappett (eds.), Cambridge University Press 2021, 296 p.
The diverse forms of regional connectivity in the ancient world have recently become an important focus for those interested in the deep history of globalisation. This volume represents a significant contribution to this new trend as it engages thematically with a wide range of connectivities in the later prehistory of the Mediterranean, from the later Neolithic of northern Greece to the Levantine Iron Age, and with diverse forms of materiality, from pottery and metal to stone and glass. With theoretical overviews from leading thinkers in prehistoric mobilities, and commentaries from top specialists in neighbouring domains, the volume integrates detailed case studies within a comparative framework. The result is a thorough treatment of many of the key issues of regional interaction and technological diversity facing archaeologists working across diverse places and periods. As this book presents key case studies for human and technological mobility across the eastern Mediterranean in later prehistory, it will be of interest primarily to Mediterranean archaeologists, though also to historians and anthropologists.
Mediterranean Sea, mobility