---
The Mobility of People and Things in the Early Modern Mediterranean The Art of Travel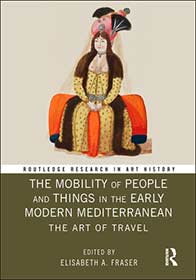 Text from the publisher:

Elisabeth A. Fraser (ed.), Routledge 2021, 196 p.
For centuries artists, diplomats, and merchants served as cultural intermediaries in the Mediterranean. Stationed in port cities and other entrepôts of the Mediterranean, these go-betweens forged intercultural connections even as they negotiated and sometimes promoted cultural misunderstandings. They also moved objects of all kinds across time and space. This volume considers how the mobility of art and material culture is intertwined with greater Mediterranean networks from 1580 to 1880. Contributors see the movement of people and objects as transformational, emphasizing the trajectory of objects over single points of origin, multiplicity over unity, and mutability over stasis.
Mediterranean Sea, travel