---
Why Travel? Understanding our Need to Move and How it Shapes our Lives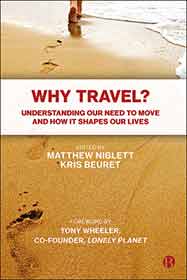 Text from the publisher:

Matthew Niblett and Kris Beuret (eds.), Bristol University Press 2021, 336 p.
Why travel? What motivations underpin the journeys we make? And how can we make decisions that improve our travel experiences?
Arguing that the desire to move is a purpose in itself, this book brings together leading experts to provide insights from multiple viewpoints across the sciences, arts and humanities. Together, they examine key travel motivations, including the importance of travel for human wellbeing, and how these can be reconciled with challenges such as reducing our carbon footprint, adapting new mobility technologies, and improving the quality of our journeys.
The book shows how our travel choices are shaped by a wide range of social, physical, psychological and cultural factors, which have profound implications for the design of future transport policies.
Offering thought-provoking and practical new perspectives, this fascinating book will be essential for all those who have ever wondered why we travel and how it relates to our fundamental needs.
travel