---
Atlantic Automobilism. Emergence and Persistence of the Car, 1895-1940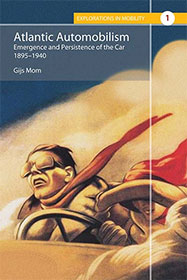 Text from the publisher:

Gijs Mom. Berghahn 2014. 768 p.
Our continued use of the combustion engine car in the 21st century, despite many rational arguments against it, makes it more and more difficult to imagine that transport has a sustainable future. Offering a sweeping transatlantic perspective, this book explains the current obsession with automobiles by delving deep into the motives of early car users. It provides a synthesis of our knowledge about the emergence and persistence of the car, using a broad range of material including novels, poems, films, and songs to unearth the desires that shaped our present "car society." Combining social, psychological, and structural explanations, the author concludes that the ability of cars to convey transcendental experience, especially for men, explains our attachment to the vehicle.
Europe, personal car, technology, USA