---
Policer les mobilités Europe – États-Unis, XVIIIe-XXIe siècle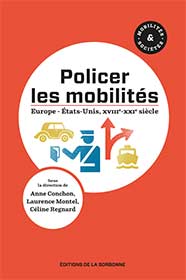 Text from the publisher:

Anne Conchon, Laurence Montel and Céline Regnard (eds.). Éditions de la Sorbonne 2018, 184 p.
L'accroissement des mobilités de passagers et des circulations marchandes constitue, à partir de la seconde moitié du XVIIIe siècle, un véritable défi pour les forces de l'ordre chargées de leur contrôle. Cet ouvrage entend saisir les dynamiques historiques de ce contrôle en Europe et aux États-Unis, par une analyse des acteurs, des pratiques et des lieux où il s'exerce de New York à Naples, d'Anvers à Marseille. Cette régulation des trafics présente des configurations différentes selon les modes de transport (voiture à cheval ou automobile, chemin de fer, navigation à voile ou à vapeur), les échelles d'observation et les types de mobilités. Résolument inscrite dans les évolutions récentes de ce champ de recherche, la démarche est ici empirique, attentive à la façon dont les institutions évoluent sans cesse à travers leur action. Ce faisant, cette étude entend montrer en quoi les dynamiques territoriales propres aux mobilités contribuent depuis le XVIIIe siècle à former, modeler, reconfigurer les pratiques de leur discipline et de leur régulation.
control, France, Italy, mobility, Netherlands, regulation, USA