---
The Highway Capacity Manual: A Conceptual and Research History Volume 2: Signalized and Unsignalized Intersections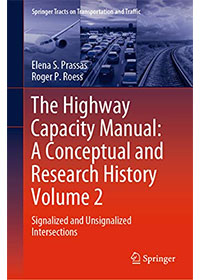 Text from the publisher:

Elena S. Prassas & Roger P. Roess (eds.). Springer 2020. 395 p.
Since 1950, the Highway Capacity Manual has been a standard used in the planning, design, analysis, and operation of virtually any highway traffic facility in the United States. It has also been widely used around the globe and has inspired the development of similar manuals in other countries. This book is Volume II of a series on the conceptual and research origins of the methodologies found in the Highway Capacity Manual. It focuses on the most complex points in a traffic system: signalized and unsignalized intersections, and the concepts and methodologies developed over the years to model their operations. It also includes an overview of the fundamental concepts of capacity and level of service, particularly as applied to intersections. The historical roots of the manual and its contents are important to understanding current methodologies, and improving them in the future. As such, this book is a valuable resource for current and future users of the Highway Capacity Manual, as well as researchers and developers involved in advancing the state-of-the-art in the field.
roads, technology, USA