---
Dansk bilproduktion: Bil- og samlefabrikker i det 20. århundrede.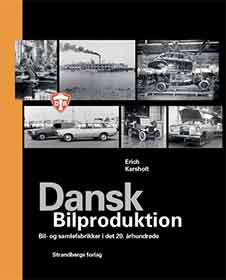 Text from the publisher:

Erich Karsholt, Strandbergs Forlag 2020, 453 p.
I de to første årtier af 1900-tallet skete en revolutionerende udvikling af ikke blot selve bilen, men også omkring fremstillingen, der gik fra håndværksmæssig tilvirkning af få enheder til masseproduktion. De danske forsøg på en bilindustri kom ikke over begynderstadiet, før de udenlandske bilfabrikker viste deres styrke. Til gengæld betød bilernes voksende udbredelse at der opstod fordele ved at samle bilerne lokalt.
Især samlefabrikker etableret af Ford Motor Company (1919) og General Motors (1924) fik stor betydning, bl.a. ved at vise dansk industri, hvorledes amerikansk organisering og produktivitet fungerede. Efterfølgende blev flere samlefabrikker etableret, således at der i Danmark gennem årene er blevet samlet over 40 forskellige bilmærker.
I mellemkrigsårene blev hovedparten af alle biler til det danske marked samlet på de danske samlefabrikker. Under besættelsen holdt fabrikkerne beskæftigelsen oppe gennem bl.a. fremstilling af gasgeneratorer – og arbejde for besættelsesmagten.
I efterkrigstiden voksede produktionen gennem 1950'erne, hvor der også var toldfordele ved at samle bilerne herhjemme, men fabrikkerne var i længden for små, ligesom øget frihandel gjorde det urentabelt. Samlefabrikkerne lukkede én efter én i løbet af 1960'erne. Den sidste samlefabrik, General Motors på Nørrebro i København, lukkede i 1974.
Denmark, production