---
Danish Shipping in the 21st Century: Navigating Troubled Waters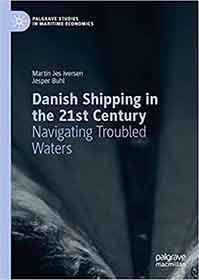 Text from the publisher:

Martin Jes Iversen & Jesper Buhl (eds.). Palgrave 2020. 78 p.
Spurred by global macro-economic shifts, commercial and financial turbulence, as well as technological leaps in the early years of the new millennium, the Danish shipping industry has changed dramatically since the turn of the century. This book provides a new understanding of how rapid business environmental changes frame strategic choices and industry structures. The authors combine a conceptual chapter with three selected business history cases to apply a methodical approach to their study. Together, the five chapters unveil patterns in the development of Danish shipping which are historical and, at the same time, consider questions that address the present situation and the challenges of our time. In other words, this short book uses history for the purpose of understanding the present and to develop thinking for the future.
business matters, Denmark, tramp shipping