---
Charles Clifton of Pierce-Arrow A Sure Hand and a Fine Automobile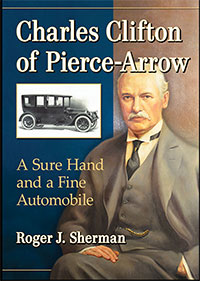 Text from the publisher:

Roger J. Sherman. McFairland 2019. 288 p.
As head of Pierce-Arrow in its formative years, Colonel Charles Clifton played a significant role in the development of a venerated automobile manufacturer. Roundly respected in his time, Clifton was a force in automobile trade associations for nearly a quarter century but slipped into undeserved obscurity after his death in 1928.
This biography covers Charles Clifton's role in the earliest conflicts and achievements of the American automobile industry and the growth of the Pierce-Arrow company, using industry publications and periodicals of the time as well as recollections of his associates and contemporaries. It details his wider importance in shaping the industry itself, especially his role in the controversies surrounding the Selden patent and the patent cross-licensing agreement between auto manufacturers. The impact of World War I on the industry and Clifton's activities responding to the vast operational changes the war brought about conclude the book.
economy in company, personal history, production