---
Civil Aviation and the Globalization of the Cold War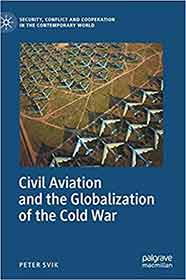 Text from the publisher:

Peter Svik. Palgrave Macmillan 2020. 256 p.
This book focuses on the highly complex and intertwined relationship between civil aviation, technological globalization and Cold War politics. It explores how the advancement of Soviet civil aircraft engineering during the 1950s technically triggered the globalization of the Cold War. The study also shows how the processes of technological standardization facilitated transfers of technology and knowledge across the Iron Curtain and how East-West as well as East-South connections evolved. It uncovers the motives and reasons for this transfer of knowledge and expertise, and aims to identify the specific roles played by states, international organizations and interpersonal networks. By taking a global approach to this history, the book advances ongoing debates in the field. It reassesses Europe's role in the Cold War, pointing out the substantial differences in how Western Europe and the United States viewed the Communist world. This book will be of interest to scholars of international history, the history of technology and Cold War history.
passenger transport, political matters