---
A History of Organizational Change: The case of Fédération Internationale de l'Automobile (FIA), 1946-2020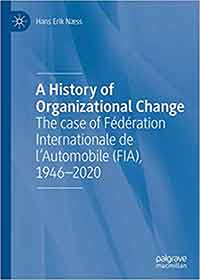 Text from the publisher:

Hans Erik Næss. Palgrave Macmillan 2020. 308 p.
This book is the first independent exploration of the Fédération Internationale de l'Automobile's (FIA) institutional history. Virtually unexamined compared with similar institutions like the FIFA and the IOC, the FIA has nevertheless changed from being a small association in 1904 to becoming one of the world's most influential sport governing bodies. Through chronologically organised chapters, this book explains how the FIA manages to link together motorsport circuses like Formula 1 with the automotive industry and societal issues like road safety and environmental sustainability. In an exciting narrative spanning seven decades, it reviews the FIA's organisational turning points, governing controversies, political dramas and sporting tragedies.
Considering the FIA to be a unique type of hybrid organisation characterised by what the author calls 'organisational emulsion', this case study contains theoretical innovations relevant to other studies of sport governing bodies. It makes an empirically grounded contribution to the research fields of institutional logics, historical sociology and sport governance.
organization automobiles, personal car, political matters, sport