---
Empire and mobility in the long nineteenth century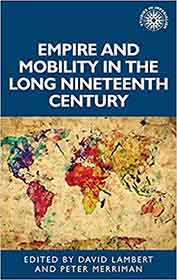 Text from the publisher:

David Lambert and Peter Merriman (eds.). Manchester University Press 2020. 248 p.
Mobility was central to imperialism, from the human movements entailed in exploration, travel and migration, to the information, communications and commodity flows vital to trade, science, governance and military power. While historians have written on exploration, commerce, imperial transport and communications networks, and the movements of slaves, soldiers and scientists, few have reflected upon the social, cultural, economic and political significance of mobile practices, subjects and infrastructures that underpinned imperial networks. Neither have they examined the qualities of movement valued by imperial powers and agents at different times. This collection explores the intersection of debates on imperial relations, colonialism and empire with emerging work on mobility. In doing this, it traces how the movements of people, representations and commodities helped to constitute empires.
Empire and mobility in the long nineteenth century examines things that moved across the British Empire, including objects and ideas, as well as the efforts made to prevent and govern these movements. It also considers the systems, networks and infrastructures that enabled imperial mobilities to happen and things that went wrong. The volume covers the late eighteenth century to the early twentieth century, a period that witnessed the eclipse of the 'first' British Empire in North America and the Caribbean, and the expansion of an imperial presence in Asia and Africa, and ends with the empire at its greatest extent in the interwar period. Geographically, it encompasses much of the territorial breadth of the British Empire in Africa, Asia, Australasia and the Caribbean. It also ranges off-shore and into the air.
economy in society, mobility, political matters