---
Amazing Transport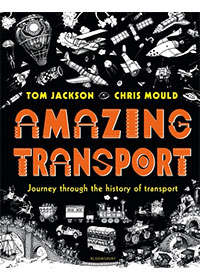 Text from the publisher:

Tom Jackson. Bloomsbury 2019. 64 p.
Fasten your seat belts and get ready to zoom through the history of transport and discover incredible facts about all kinds of vehicles along the way.

Every day, all over the world, people are busy travelling – short hops or great, long voyages, moving slowly and steadily or racing along at super-fast speeds. They make their trips in cars, trains, planes, ships and on bikes – and some people even blast off in rockets!

Make your own amazing transport journeys as you explore timelines and discover the people and stories behind the machines that keep the world moving. Take a twist or turn and find out what happened when the Freedom 7 blasted into space, race your way through Japan at lightning speed on the awesomely fast bullet train, set sail on a Viking longship and let the wind carry you away in a hot-air balloon with the Montgolfier brothers.

With wonderfully intricate illustrations from Chris Mould, Amazing Transport tells the story of some of science's most recognisable inventions in a way you've never seen before. Prepare yourself for the journey of a lifetime.
invention, technology