---
Uber (Corporations That Changed the World)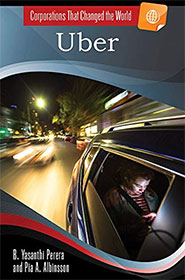 Text from the publisher:

B. Yasanthi Perera & Pia Albinsson. Greenwood 2020. 236 p.
Uber is one of the most innovative companies of our time. This book provides a detailed analysis of the company and its success, beyond the headlines about safety and culture.
Americans are so accustomed to using Uber today that the name of the innovative ride-sharing company has almost become a verb, as in "to Uber" somewhere, and yet Uber has been around only since 2010. In less than a decade, Uber has disrupted the ride-hailing industry, from making it easier and more affordable to become an Uber driver than a cab driver to rating riders as well as drivers. As an early pioneer in using technology to create a new business model and new efficiencies, Uber is considered one of the most important case studies in the sharing economy.
However, little in-depth information exists on this innovative company. This book traces Uber's origin and evolution in the face of competitive pressures, discusses the company leadership and corporate culture, addresses such controversies as rider and driver safety and sexual harassment of female employees, and explores how the company is addressing these challenges. Students of business, entrepreneurs, and anyone interested in the development and exponential growth of the sharing economy will benefit from reading this book.
Provides key insights into the inner workings of the Sharing Economy
Delivers a comprehensive overview of Uber's technological innovations, global expansion, and business model
Explores the leadership challenges faced by founder Travis Kalanick
Reveals how the company has addressed reports of a sexist corporate culture
business matters, taxi