---
Touring China. A History of Travel Culture, 1912–1949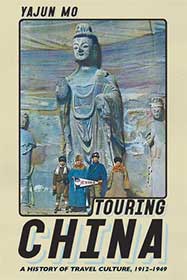 Text from the publisher:

Yajun Mo, Cornell University Press 2021, 318 p.
The book explores how early twentieth century Chinese sightseers described the destinations that they visited, and how their travel accounts gave Chinese readers a means to imagine their vast country.
The roots of China's tourism market stretch back over a hundred years, when railroad and steamship networks expanded into the coastal regions. Tourism-related businesses and publications flourished in urban centers while scientific exploration, investigative journalism, and wartime travel propelled many Chinese from the eastern seaboard to its peripheries. Mo considers not only accounts of overseas travel and voyages across borderlands, but also trips within China. On the one hand, via travel and travel writing, the unity of China's coastal regions, inland provinces, and western frontiers was experienced and reinforced. On the other, travel literature revealed a persistent tension between the aspiration for national unity and the anxiety that China might fall apart. Touring China tells a fascinating story about the physical and intellectual routes people took on various journeys, against the backdrop of the transition from Chinese empire to nation-state.
China, tourism