---
The Painted Maps of the Grand Canal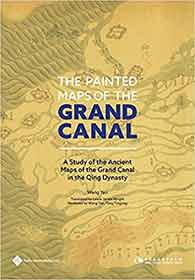 Text from the publisher:

Wao Wang & Lewis Wright, Paths International 2020, 358 p.
Focuses on the investigation and research into the existing ancient canal maps in Qing Dynasty in China and abroad. This book is divided into five chapters and the author analyses the maps of Grand Canal in Qing Dynasty from different angles. The first chapter introduces the current situation and graphic drawing of canal maps in Qing Dynasty. This chapter mainly introduces the current situation of the maps and the organizations that they belong to at home and abroad, and at the same time analyzes the distribution of the canal maps. Based on the classification of the canal diagram, the author completed the list of the existing canal maps of the Qing Dynasty according to certain classification standards and age, so that to provide material support for the following studies. The second chapter focuses on the map text information, in chronological order, showing the characteristics of the canal map, in order to easily grasp the text of the canal map and the imprint of the times. The third chapter is intended to show the regional characteristics of the canal drawing on the basis of the map text information, so as to clearly grasp the spatial narrative characteristics of the canal. The fourth chapter studies the drawing content, the characteristics of the map, the background of the drawing and the transfer of some drawings of the evaluation maps, and the drawing content and map features of the canal transportation maps, which enriches the understanding of the various canals. The last chapter focuses on the works of canal river in the Qing Dynasty and the management of river canal. On the basis of the canal map with high academic value, this chapter explores the historical value of the canal river drawing, analyzes the important river canal control project and the rivers and lakes.
canal, China