---
Popular Music and Automobiles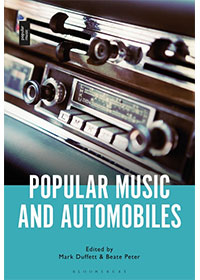 Text from the publisher:

Mark Duffett & Beate Peter (eds.). Bloomsbury 2020. 216 p.
Particularly since the 1950s, cars and popular music have been constantly associated. As complementary goods and intertwined technologies, their relationship has become part of a widely shared experience-one that connects individuals and society, private worlds and public spheres. Popular Music and Automobiles aims to unpack that relationship in more detail. It explores the ways in which cars and car journeys have shaped society, as well as how we have shaped them. Including both broad synergies and specific case studies, Popular Music and Automobiles explores how attention to an ongoing relationship can reveal insights about the assertion and negotiation of identity. Using methods of enquiry that are as diverse as the topics they tackle, its contributors closely consider specific genders, genres, places and texts.
music, recreational driving