---
Transnational railway cultures. Trains in music, literature, film, and visual art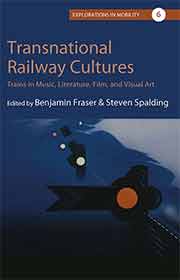 Text from the publisher:

Benjamin Fraser and Steven Spalding (eds.), Berghahn 2021, 250 p.
Since the advent of train travel, railways have compressed space and crossed national boundaries to become transnational icons, evoking hope, dread, progress, or obsolescence in different cultural domains. Spanning five continents and a diverse range of contexts, this collection offers an unprecedentedly broad survey of global representations of trains. From experimental novels to Hollywood blockbusters, the works studied here chart fascinating routes across a remarkably varied cultural landscape.
film, literature, music, photography, Railroad