---
Paving Our Ways: A History of the World's Roads and Pavements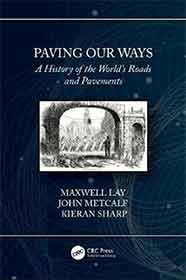 Text from the publisher:

Max Lay, Taylor & Francis 2020, 314 p.
Paving Our Ways covers the international history of road paving in an interesting, readable and technically accurate way. It provides an overview of the associated technologies in a historical context.
It examines the earliest pavements in Egypt and Mesopotamia and then moves to North Africa, Crete, Greece and Italy, before a review of pavements used by the Romans in their magnificent road system. After its empire collapsed, Roman pavements fell into ruin. The slow recovery of pavements in Europe began in France and then in England.
The work of Trésaguet, Telford and McAdam is examined. Asphalt and concrete slowly improved as paving materials in the second part of the 19th century. Major advances occurred in the 20th century with the availability of powerful machinery, pneumatic tyres and bitumen. The advances needed to bring pavements to their current development are explored, as are the tools for financing, constructing, managing and maintaining pavements.
The book should appeal to those interested in road paving, and in the history of engineering and transport. It can also serve as a text for courses in engineering history.
roads