---
Pensar las infraestructuras en Latinoamérica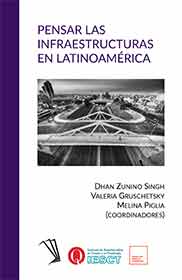 Text from the publisher:

Dhan Zunino Singh, Valeria Gruschetsky and Melina Piglia (eds.), TeseoPress 2021,
Puentes, caminos, túneles, canales, puertos, represas, redes de agua o de cloacas, de gas y telefónicas…, las infraestructuras transforman el territorio, movilizan fuerzas sociales y políticas y recursos materiales, encarnan ideas y valores, son producto y productoras de lo social. En el marco de los giros materiales y culturales que atravesaron a las ciencias sociales en los últimos años, su estudio ha adquirido un renovado interés.
En lo que respecta a la historia de las infraestructuras en América Latina, existe tanto una literatura previa como nuevos abordajes, que se reúnen por primera vez en un volumen en español, donde se ponen en perspectiva casos locales de Argentina, Chile, Colombia, Panamá, Brasil, desde disciplinas y perspectivas diversas, como la Historia, la Sociología, el Urbanismo, aplicadas a una variedad de infraestructuras, desde sistemas de transporte e hídricos hasta espacios urbanos.
Argentina, bridges, Chile, Colombia, highway, infrastructure, infrastructure, other, Latin America, Panama, roads, tunnels