---
Off Shore: Perspectives on Atlantic Pleasure Travel since the 19th Century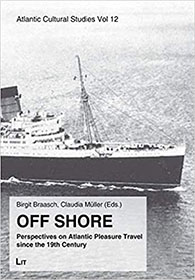 Text from the publisher:

Birgit Braasch & Claudia Müller (eds.). Lit Verlag 2020. 296 p.
The book highlights facets of people's experiences since the 19th century with Atlantic space and the design of their stay on board ships. The contributions range from the perspective of pleasure-seeking tourists, who used ships as a temporary, luxurious homes to the perspective of military personnel, who perceived the Atlantic Passage as a transition between homeland security and potentially dangerous professional operations – the risks of sea voyages even on technically sophisticated ocean liners, whose interiors and services often include grand hotels in the metropolises of the late 19th and 20th century, were discreetly ignored by the passengers. The charm of the Atlantic and the ship, unthinkable in earlier times, should not be decimated in any way.
Atlantic, liner shipping