---
Delivering Victory: The History of US Military Transportation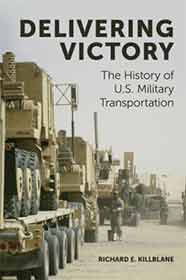 Text from the publisher:

Richard E. Killblane. Emerald Insight 2019. 384 p.
While there are many books on logistics which understand the concept of service and supply, none understand the important role of transportation in synchronizing logistics. Delivering Victory: The History of U.S. Military Transportation covers the evolution of military transportation in the U.S. Armed Forces from the Spanish American War until the recent humanitarian missions to Haiti and West Africa to show how military transportation both synchronizes and creates logistics operations and therefore shapes the conduct of contingency and combat operations.
Based on a rich selection of both primary and secondary sources, this book explores how the role of military transportation in the U.S has evolved, from disparate organizations to a synchronized logistics approach which connects dots from end to end, from fort and factory, and to the foxhole. Chronicling the birth of a separate branch of the Army during the Second World War and the creation of a strategic logistics technique headed by a single organization, the author demonstrates how transportation created logistics operations due to its inherent moving nature which allowed military operations to change in scale and magnitude. To this end, this book demonstrates how the ability to deploy and sustain mass around the globe became the hallmark of American military transportation capability, and an essential part of delivering victory.
logistic