---
The urban logistic network. Cities, Transport and Distribution in Europe from the Middle Ages to Modern Times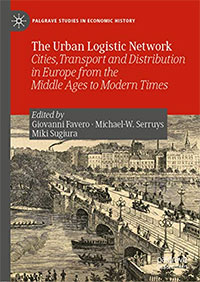 Text from the publisher:

Giovanni Favero, Michael-W. Serruys & Miki Sugiura (eds.). Palgrave Studies in Economic History 2019, 253 p.
Highlights the crucial role of urban networks in understanding the socioeconomic, geopolitical and spatial dynamics of European history from 1500 to 1900
Tests theories on the relationship between urban networks and economic activity by comparing historical cases
Focuses on the historical development of transport and distribution in connection with the development of urban networks.This edited collection examines the formation of urban networks and role of gateways in Europe from the Middle Ages to the modern world. In the past, gateway cities were merely perceived as transport points, only relevant to maritime shipping. Today they are seen as the organic entities coordinating the allocation of resources and supporting the growth, efficiency and sustainability of logistics (including both the transport and distribution of goods and services). Using different historical case studies, the authors consider how logistics shaped urban networks and were shaped by them.
Europe, logistic, types, urban travel