---
Monday / February 26, 2018
The "Dolmus" And "Minibus" Of Istanbul: Two Different Shared Vehicles And Cultures Of Urban Transportation, Part 2
By Dr. Basak Tanulku
Basak Tanulku is an independent researcher, based in Istanbul, Turkey.  Tanulku obtained a PhD degree in Sociology from Lancaster University in the UK for the research project: "An Exploration of Two Gated Communities in Istanbul, Turkey" (2010). Her main work focuses on socio-spatial fragmentation, gated communities; space and identity; urban vacant lands and buildings; urban social movements and protests and alternative spaces and public spaces and urban commons. Tanulku has written for various blogs and published articles in peer-reviewed journals. 
This post is the second in a two-part installment, the first can be accessed here.
Minibus: An Unwanted but Irreplaceable Vehicle
Istanbul's traffic is also characterised by "minibuses" which emerged during the 1970s as a result of the need for larger vehicles and cheaper public transportation for the urban poor, living in the urban peripheries (Ozturkmen, 2009). As Ozturkmen argues, minibuses reflect migrant culture, while dolmuses reflect middle-class culture (Ozturkmen, 2009). Relatedly, minibuses are associated with "Arabesque" a genre-mixing Turkish and Middle Eastern music which became very popular during the 1980s. During that time, several Arabesque music singers became cultural icons and actors. Their art reflected the emotions, experiences, and struggle of the urban poor who could not adapt to the urban culture and were stuck between the urban and rural ways of life. As some ethnographers argue, the popularisation of Arabesque was due to minibus drivers who listened to this music in their vehicles loudly (Stokes, 1998).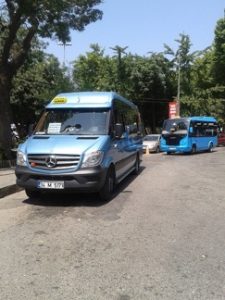 Image 2: Minibuses in Uskudar, one of the main commercial and shopping districts of Istanbul on the Asian side. These minibuses carry passengers between Uskudar and Hasippasa or Uskudar and Talimhane, which are mainly inhabited by the urban poor. However, passengers are diverse since the route also passes through the upper and middle-income districts.
Minibuses are smaller than a bus and larger than a dolmus (which was described in detail in part one of this post). While the number of passengers of a dolmus is fixed (nine at maximum), the number of passengers which a minibus can carry is not fixed, since passengers can also travel on foot. The passengers are also more diverse, such as mothers with push chairs, disabled and older people with equipment, and people who carry heavy loads.
The minibuses are not as standard as dolmuses, however, they can be identified by the names of each stop written on their facades, while they are either blue or light yellow vehicles. Even not as popular as dolmuses, also minibuses are covered with advertisements, something which differentiates them from shared vehicles in other countries. As demonstrated by Cengiz, drivers modify the minibuses by decorating the exterior of their vehicles with additional apparatuses to make them more valuable (Cengiz, 2013). The minibuses are cheaper than individual taxis and dolmuses. The prices depend on the route's length and similar to dolmuses, always paid in cash. Similar to dolmuses, passengers urge drivers when they want to get off such as "inecek var" (there is someone who wanna stop). The drivers can change the regular routes when there is an accident or congestion. In that case, the drivers urge passengers that they won't follow the formal course. Similar to dolmuses, minibuses stop at particular locations approved by the municipality which consist of a signboard which demonstrates the name of the stop, while the drivers personalise these stops by bringing chairs, small tables or similar furniture.
Inside the vehicle, the driver, called "reis" or "kaptan" (chief or captain) has the ultimate power to decide where to stop or take more passengers. The driver's seat is located higher than or segregated from passengers' seats. Different from the dolmus, drivers sometimes have an aide, who collects money, accommodates passengers and urges the driver when the vehicle is full. The drivers, similar to dolmus, chat to the passengers sitting in the front row. They are always men, while sometimes they carry only female passengers. Most women prefer to sit next to another woman, particularly in the districts inhabited by conservative people who give more importance to gender segregation in public areas. [1]  When a woman (alone or with her children) gets on the minibus, in most times a younger man gives his seat to her, which demonstrates the respect shown towards older (and women) people in Turkish everyday culture: women (with children) are seen as more respected, and once they get older, they receive more respect since they become mothers.
Minibuses are regarded as premodern, macho, violent or outlaw in public opinion which do not follow traffic rules. As a result of their negative image, every couple of years, minibuses become the subject of debates in the media and have been proposed to be banned from the traffic. Despite this negative image, minibuses seem to have an irreplaceable role in Istanbul since they provide passengers with flexible and cheap solutions in the traffic.
Conclusion
Istanbul's urban transport infrastructure consists of different vehicles which operate on the same routes, but in different schedules, adopting different rules, having different designs and addressing different needs. This essay took two shared vehicles, dolmus, and minibus, to demonstrate how the urban transport is a very complex realm which consists of pre-modern and modern, and formal and informal vehicles completing each other and addressing diverse needs. Dolmus and minibus contribute to the everyday culture of the city, reflecting different identities, jargons and particular forms of communication between passengers and drivers based on a continuously changing network of formal and informal routes. Despite the differences regarding routes, passengers, designs, both vehicles have some standard features. First, both emerged as a result of the demand of people rather than a direct intervention by the city municipality or the state. Dolmus is associated with the middle class and the modern side of the city while minibus is related to the city's lower classes residing in its peripheries. However, they become incorporated into the city's complex transport system which includes the licencing of car plates and registration of drivers, and regulations about the locations of the stops and pricing. In this context, they are paratransit vehicles, i.e., they are managed by the city municipality. However, private individuals or companies own or manage them. In some cases, they also operate illegally.
Second, both vehicles have not experienced many changes, except the standardisation of their designs (automatic doors, air conditioners, or modifications by drivers) and the regulation of their markets. The same routes still work today, however, as the result of the development of the city and increase in population, additional routes were introduced, or as a result of the diversification of urban transport, some courses were cancelled. The reason for their importance in Istanbul's transport is people's demand for cheaper and quicker travel. Also, they are suitable for the dense and old urban centre. Also, mainly dolmus is a small and flexible vehicle which can enter in any street of Istanbul and does not damage the old and valuable building stock.
Third, both vehicles provide flexibility and more options while saving the time of passengers. As an example, while minibuses can accommodate passengers on foot, anyone can also wait for the next one to be able to sit. Both vehicles also provide flexibility regarding the shift. As an example, while a bus only passes particular times on a specific route, a dolmus or minibus makes three or four shifts at the same time slot. A driver can also choose to board even if dolmus or minibus is not full, instead, he can take passengers across the route.
 Last but not least, as most of the public transportation of Turkey, they are mixed spaces which bring together people from very different backgrounds. Both vehicles are also spaces where gender differences can be seen, and the relationships between men and women are reshaped. This is an important difference from the shared taxis in European countries such as France, Russia or Bulgaria since in Turkey gender issues are shaped by the rules of Islam and traditional values of everyday life. In this respect, they do not only contribute to Istanbul's complex transportation system but also culture and identity, and they can be regarded as a form of public space where people from diverse backgrounds meet.
—
[1]     The public vehicles in Turkey are not segregated by gender, and most vehicles (stately managed vehicles such as buses, trams, ferries and privately managed vehicles such as dolmus or minibus) are mixed-sex. However, in some municipalities in Turkey, gender-segregated vehicles have been introduced.
References
Acarer, E. (2014) %100 Istanbul, Tarih, Mekan ve Sırlar (100% Istanbul: History, Space and Secrets), 5th ed., Istanbul: Inkılap Publishing House.
Celik, Z. (1986) The Remaking of Istanbul, The University of California Press.
Cengiz, K. A. (2013) Dolmus Ici ve Dısı Nesneler ve Yazılar Aracılıgıyla Kimligin Ifsası (The Revelation of the Identity through the Objects and Words in a Dolmus (Minibus), Ankara Universitesi Dil, Tarih ver Cografya Fakültesi  Antropoloji Dergisi, vol: 25, pp. 89-116.
Guney, E. G. (2012) A Study on the Effect of Transportation Systems to The Evolution of The City Image – The Case of Istanbul, MEGARON, vol: 7(1), pp. 91-107.
Ozturkmen, A. (2009) "Dolmus" in Istanbullasmak, Olgular, Sorunsallar, Metaforlar ("Dolmus" in Becoming Istanbul, Facts, Problematics, Metaphors), Dervis, P., Tanju, B., Tanyeli, U. (eds.), Istanbul: Garanti Galeri.
Stokes, M. (1998) Türkiye'de Arabesk Olayı (The Arabesque Debate: Music and Musicians in Modern Turkey, original), Istanbul: Iletisim Press.