---
Sunday / October 30, 2022
Mobility Humanities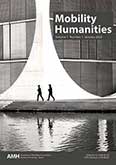 Mobility Humanities is a peer-reviewed, international and interdisciplinary journal published two times per year by the Academy of Mobility Humanities at Konkuk University, Seoul, South Korea.
While seeking vibrant interdisciplinary discussions on the phenomena, technologies, and infrastructures of mobility and its ramifications from the humanities perspective, Mobility Humanities encourages papers that delve into their cultural-political, ethical, and spiritual and emotional meanings, focusing on the representation, imagination, and speculation that surround mobility.
Mobility Humanities welcomes original articles that make an innovative contribution to the humanities-based mobility studies from philosophical thoughts, literary, cultural and communication inquiries, historical, geographical, and sociological research around the world. We especially welcome research from and about Asia and the Global South.
Mobility Humanties consists of articles, book reviews, and scholarly interviews, as well as special issues.
Mobility Humanities boasts a strong editorial board composed of respected scholars from across the globe. Also, the journal collaborates with distinguished scholars as guest editors.
The journal is open-access http://journal-mobilityhumanities.com
| | | |
| --- | --- | --- |
| Inseop Shin | Konkuk University, South Korea | |
Jooyoung Kim
Taehee Kim
Jinhyoung Lee
Editorial Advisory Board
Melani Budianta (Indonesia University, Indonesia)
Maria Luisia T. Reyes (University of Santo Tomas, Philippines)
Zhenzhao Nie (Zheijiang University, China)
Editorial Board
Peter Adey (Royal Holloway University of London, UK)
Marian Aguiar (Carnegie Mellon University, USA)
David Bissell (University of Melbourne, Australia)
Tim Cresswell (Edinburgh University, UK)
Dydia DeLyser (California State University, USA)
Weiqiang Lin (National Singapore University, Singapore)
Peter Merriman(Aberystwyth University, UK)
Thomas Nail (University of Denver, USA)
Lynne Pearce (Lancaster University, UK)
Tania Rossetto (University of Padua, Italy)
Noel Salazar (KU Leuven University, Belgium)
Vincent Serrano (Ateneo de Manila University, Philippines)
Sarah Sharma (University of Toronto, Canada)
Mimi Sheller (Worcester Polytechnic Institute, USA)