---
Transport and Its Place in History Making the Connections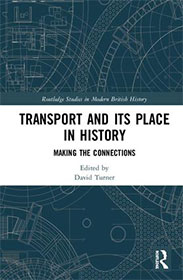 Text from the publisher:

David Turner (ed.). Routledge 2020. 264 p.
Transport and mobility history is one of the most exciting areas of historical research at the present. As its scope expands, it entices scholars working in fields as diverse as historical geography, management studies, sociology, industrial archaeology, cultural and literary studies, ethnography, and anthropology, as well as those working in various strands of historical research. Containing contributions exploring transport and mobility history after 1800, this volume of eclectic chapters shows how new subjects are explored, new sources are being encountered, considered and used, and how increasingly diverse and innovative methodological lenses are applied to both new and well-travelled subjects. From canals to Concorde, from freight to passengers, from screen to literature, the contents of this book will therefore not only demonstrate the cutting edge of research, and deliver valuable new insights into the role and position of transport and mobility in history, but it will also evidence the many and varied directions and possibilities that exist for the field's future development.
mobility