---
Mobility and Identity in US Genre Painting: Painting at the Threshold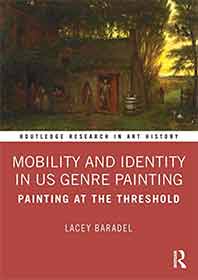 Text from the publisher:

This book examines the portrayal of themes of boundary crossing, itinerancy, relocation, and displacement in US genre paintings during the second half of the long nineteenth century (c. 1860–1910).
Through four diachronic case studies, the book reveals how the high-stakes politics of mobility and identity during this period informed the production and reception of works of art by Eastman Johnson (1824–1906), Enoch Wood Perry, Jr. (1831–1915), Thomas Hovenden (1840–95), and John Sloan (1871–1951). It also complicates art history's canonical understandings of genre painting as a category that seeks to reinforce social hierarchies and emphasize more rooted connections to place by, instead, privileging portrayals of social flux and geographic instability.
The book will be of interest to scholars working in art history, literature, American studies, and cultural geography.
Lacey Baradel, Routledge 2020, 178 p.
mobility