---
Métropoles mobiles. Défis institutionnels et politiques de la mobilité dans les métropoles françaises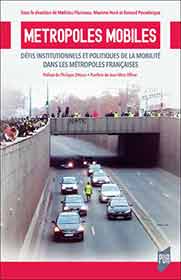 Text from the publisher:

Flonneau Mathieu, Passalacqua Arnaud and Huré Maxime (eds.), Presses Universitaires de Rennes 2021, 230 p.
La plupart des grandes agglomérations françaises sont récemment devenues des métropoles, territoires aux tensions très fortes du fait des pratiques de mobilité, en leur sein comme à leur périphérie. à l'écart des controverses et avec recul historique, cet ouvrage fait le choix d'observer plusieurs territoires français confrontés à ces questions de mobilité. Il se fonde sur des cas diversifiés, de l'incontournable exception parisienne à des situations plus courantes, comme celle de Brest ou de territoires ruraux polarisés par des centres urbains pourtant distants, pour lesquels l'automobilisme joue toujours un rôle majeur.
France, town planning