---
Landscape Of Migration: Mobility And Environmental Change On Bolivia's Tropical Frontier, 1952 To The Present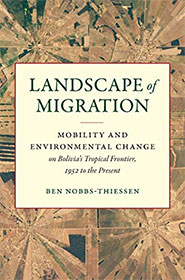 Text from the publisher:

Ben Nobbs-Thiessen. The University of North Carolina Press 2020. 334 p.
In the wake of a 1952 revolution, leaders of Bolivia's National Revolutionary Movement (MNR) embarked on a program of internal colonization known as the "March to the East." In an impoverished country dependent on highland mining, the MNR sought to convert the nation's vast "undeveloped" Amazonian frontier into farmland, hoping to achieve food security, territorial integrity, and demographic balance. To do so, they encouraged hundreds of thousands of Indigenous Bolivians to relocate from the "overcrowded" Andes to the tropical lowlands, but also welcomed surprising transnational migrant streams, including horse-and-buggy Mennonites from Mexico and displaced Okinawans from across the Pacific.

Ben Nobbs-Thiessen details the multifaceted results of these migrations on the environment of the South American interior. As he reveals, one of the "migrants" with the greatest impact was the soybean, which Bolivia embraced as a profitable cash crop while eschewing earlier goals of food security, creating a new model for extractive export agriculture. Half a century of colonization would transform the small regional capital of Santa Cruz de la Sierra into Bolivia's largest city, and the diverging stories of Andean, Mennonite, and Okinawan migrants complicate our understandings of tradition, modernity, foreignness, and belonging in the heart of a rising agro-industrial empire.
Bolivia, migration