---
Invisible Bicycle: Parallel Histories and Different Timelines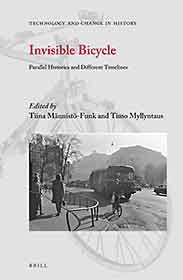 Text from the publisher:

Tiina Männistö-Funk and Timo Myllyntaus (eds), Brill 2019, 282 p.
The Invisible Bicycle brings together different insights into the social, cultural and economic history of the bicycle and cycling in historical eras of ubiquitous bicycle use that have remained relatively invisible in bicycle history. It revisits the typical timeline of cycling's decline in the 1950s and 1960s and the renaissance beginning in the 1970s by bringing forth the large national and local variations, varying uses and images of the bicycle, and different bicycle cultures as well as their historical background and motivations. To understand the role, possibilities and challenges of the bicycle today, it is necessary to know the history that has formed them. Therefore The Invisible Bicycle is recommended also to present-day practitioners and planners of bicycle mobility.
Contributors are: Peter Cox, Martin Emanuel, Tiina Männistö-Funk, Timo Myllyntaus, Nicholas Oddy, Harry Oosterhuis, William Steele, Manuel Stoffers, Sue-Yen Tjong Tjin Tai, Frank Veraart.
bicycle