---
Cycling and the British A Modern History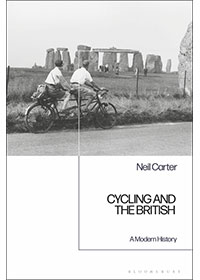 Text from the publisher:

Neil Carter (ed.). Bloomsbury 2020. 272 p.
Cycling is currently enjoying a boom in popularity. What are the reasons behind this phenomenon? How have perceptions and the popularity of cycling shifted?

This book charts the historical development of cycling both as a leisure and sporting activity since the 19th century and explores the wider political and cultural context in which cycling in Britain emerged. In particular, it examines cycling's relationship with environmental politics and its place in popular culture. Neil Carter successfully traverses several historical sub-disciplines, including the history of transport, leisure, sport, medicine and politics, employing the analytical tools of class, gender, political culture, the role of the state and commercialism to demonstrate how British identity has shaped and been shaped by cycling.

At a time when it has become part of debates over transport and health, Cycling and the British: A Modern History provides a timely and clear analysis of the changes and continuities in attitudes towards cycling.
bicycle, England, Europe