---
Tracing Asylum Journeys: Transnational Mobility of Non-European Refugees to Canada via Turkey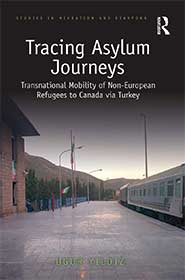 Text from the publisher:

Ugur Yildiz, Routledge 2021, 154 p.
This book explores the asylum journey of non-European asylum applicants who seek asylum in Turkey before resettling in Canada with the aid of the Canadian government's assisted resettlement programme. Based on ethnographic research among Syrian, Afghan, Eritrean, Ethiopian, Iraqi, Iranian, Somali, Sudanese and Congolese nationals it considers the interactions of asylum seekers with both UNHCR's refugee status determination and Canada's refugee resettlement programme. With attention to the practices of migrants, the author shows how the asylum journey contains both mobility and stasis and constitutes a micro-political image of the fluidity and relativity of attributed identities and labels on the part of state migration systems. A multi-sited ethnography that shows how the migration journey is linked to the production and reproduction of knowledge, as well as the diffusion of produced knowledge among past, present, and future asylum seekers who form trans-local social networks in the course of their route, in Turkey, and in Canada. Tracing Asylum Journeys will appeal to sociologists and political scientists with interests in migration and transnational studies, and refugee and asylum settlement.
asylum, Canada, North America, Turkey