Forthcoming Conferences – Calls for Papers
WORKSHOP ANNOUNCEMENT
Working on Globalisation: Work and Transport in Global History after 1945 Berlin, October 25-27, 2013 Jamie Monson (Macalester College) and Niels P Petersson (Sheffield Hallam University)
Globalisation is hard work. Global flows do not 'just exist', they have to be set in motion – goods, people and information have to be carried from one end of the globe to the other. The aim of this workshop is to contribute to the agenda of the emerging field of global history by investigating entanglements and connections through the lens of the transport work that is required to make them happen. By bringing together histories of work and transport in a global perspective, we aim to shed light on the interplay between the global and the local; agency and structure; flows and boundaries.
Papers will explore some or all of the following questions within a triangle constituted by the notions of globalisation, transport, and work:
- How does the history of transport work contribute to our understanding of global processes of integration, disintegration and reconfiguration?
- In which ways can a history of transport work make the limits as well as the flows of globalisation more visible?
- How does a focus on the experiences and processes of work affect our understanding of the history of transport and globalisation?
- In which ways does global transport labour history lead us to reexamine specific post-1945 moments and periods as they are commonly defined: for example decolonisation, nationalism, the cold war, socialism and post-socialism?
Our primary focus will be on work and work processes. We will also be interested in the global history of labour relations and labour organisation, in particular as these are related to specific contexts of global transport work. We would also invite contributors to reflect on methodology, including the location of historical sources and their interpretation.
The workshop will focus on the post-1945 period in order to ensure a basic coherence of themes and problems. We will not specify any particular regional or geographic focus, but expect that all papers will address an aspect of non-Western history. Alongside historians, we would encourage social scientists, anthropologists and all others with an interest in exploring the workshop topic to submit a proposal.
We are happy to announce Frederick Cooper (New York) and Marcel van der Linden (Amsterdam) as keynote speakers (confirmed).
The workshop will be hosted by the International Research Centre 'Work and the Human Life Cycle in Global History' at Humboldt University Berlin.
An expanded version of this call for papers, including a list of possible topics, is available at http://www2.hu-berlin.de/arbeit/fileadmin/Documents/CfP_Working_on_Globalisation__rework_.pdf.
Interested scholars should submit an abstract of their proposed paper (c. 500 words) by April 21 to n.p.petersson@shu.ac.uk. Successful applicants will be notified by early May.
Papers will be submitted two weeks in advance of the conference, and presentations will be limited to about 20 minutes to leave sufficient time for discussion.
We expect to be able to fund the speakers' travel and accomodation expenses.
Niels P Petersson
Sheffield Hallam University
Call for papers. V Congress of International Railway History Association
Railways in Latin America: History and Legacy (19th – 20th century)
The International Railway History Association (IRHA) announces call for papers for its 5th International Congress, to be held in Santiago de Chile, Instituto Italiano de Cultura, September 12-13, 2013.
For the first time IRHA-AIHF-AIHC will organize its congress outside the European continent. Latin America is one of the regions where the railway system developed rapidly in the nineteenth century. Latin American specialization in trade and export by using the railway system became the primary means for transporting and extracting raw materials and intermediate products from the interior to the ports of the Atlantic, Pacific and the Caribbean sea, going to European or USA markets. Railways continued throughout the twentieth century playing a central role in Latin America's economy and society. However the intense use of the railway system was not accompanied by a process of improving the railway network at the end of the century. This led to the loss of profitability and capacity of railway life.
The liberalization process practised by the policy makers in the region gave way in many countries to the reduction of the railway system progressively.
Since then the railways have become a secondary mode of transportation, being residual in the transport system in many countries of Latin America. The purpose of the IRHA conference is to debate from a historical point of view the railway system's contribution for the whole region and also individual countries. The IRHA is interested in receiving papers dealing with all economic and social aspects of railways in Latin America. Some aspects are part of our interest but we are open to receiving any others such as:
-Infrastructure (viaducts, bridges, stations, electrification systems) -Rolling stock (wagons, platforms) and traction (locomotives, tractors); -Social and economic aspects, including railway workers and their unions and organization; managing and performance of railway enterprises; local and international investments in railways.
Interested candidates must send a proposal of not more than 1000 words to:
submissions@aihc-irha-aihf.com
Deadline of this proposal has been extended to 17 February 2013.
Notification of acceptance will be given no later than 15 March 2013 Languages are English and Spanish. There will be simultaneous translation in the Congress sessions.
More details (fees, hotels) will follow soon Any questions or information please contact secretary@aihc-irha-aihf.com
.
Accidents and Emergencies:
Risk, Welfare and Safety in Europe
and North America, c. 1750-2000
9-11 September 2013
Oxford Brookes University, Oxford, UK
Co-organised by the Univeristy of Portsmouth, UK
Deadline for registration: 2 September 2013
Register at: http://shop.brookes.ac.uk/browse/extra_info.asp?compid=1&modid=2&deptid=24&catid=46&prodid=123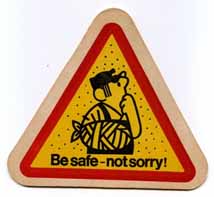 Keynote speakers
Professor Bill Luckin (University of Bolton, UK)
Dr Arwen Mohun (University of Delaware, USA)
Context and aims
We live in a society obsessed with risk and safety. Via a medley of state-related and commercial agencies, we insure ourselves against the possibility of death, ill-health, accident, theft and unemployment, subjecting every facet of our lives to the calculus of risk. Meanwhile, a battery of signs, leaflets, manuals and adverts spread the message of 'health and safety', reminding us of the dangers lurking in our everyday actions.
Equally, notions of risk and safety go to the heart of our sense of collective welfare, and the complex relations of self, society and the State, and public and private agency. Indeed, for some sociologists, we live in a 'risk society', premised on the 'reflexive' processing of information, the prevention of the accidental and the unexpected, and the anxious desire to predict – even control – the future.
The aim of this conference is to take stock of the present by focussing on modern Europe and North America from roughly 1750 onwards. It welcomes:
historians from all sub-fields (social, medical, cultural, etc.)
scholars from other disciplines such as sociology and cultural studies.
Risk, welfare and safety have long been sites of historical inquiry. This conference takes this literature as its point of departure, and encourages both general and trans-national appraisals of the history and nature of modern 'risk societies', as well as accounts which focus on particular technologies, practices and discourses.
In sum, the aim of 'Accidents and Emergencies' is to:
rethink the history of risk, welfare and safety;
encourage a more integrated approach to their empirical study and conceptualisation;
open up new historical and sociological perspectives through which we might better grasp the present.
Format and themes
This will be a three-day conference: 9, 10 & 11 September 2013, to be held at Oxford Brookes University and supported by the University of Portsmouth.
We intend that the papers should be pre-circulated, in a draft form of around 5,000 words (though we appreciate this will not be possible in all cases).
Papers – conceptual and empirical – are invited which address one or more of the following themes:
Conceptualising and historicising 'risk society': the work of Beck, Giddens, Luhmann and Ewald – and others
The politics of risk and solidarity: liberalism, social democracy and neo-liberalism
Selling risk and safety: mixed economies of welfare, and the insurance and safety industries
Statistics, temporality and the calculus of risk: histories of actuarial probability
Industrial risks (i): pollution and the environment
Industrial risks (ii): technology and workplace accidents
Shock, trauma and sensation: representing accidents and emergencies
Logistics of risk and safety: emergency services and technologies
Preventing accidents (i): surveillance, inspection and maintenance
Preventing accidents (ii): health and safety education
Transnational risks and exchanges: policies, innovations and institutions
Key words: meanings of 'safety', 'risk', 'probability' and 'accident' in particular contexts
Over the three days we would like speakers to raise the salient issues of their papers in order to leave as much time as possible for discussion and feedback. The conference language will be English.
We intend to publish a selection of the papers in the form of an edited volume or special issue of a journal.
Contacts
Alternatively, if you are interested in attending as a delegate please email to reserve a place.
Conference organisation enquiries:  tcrook@brookes.ac.uk
Organisers: Dr Tom Crook (Oxford Brookes University) and Dr Mike Esbester (University of Portsmouth).
.